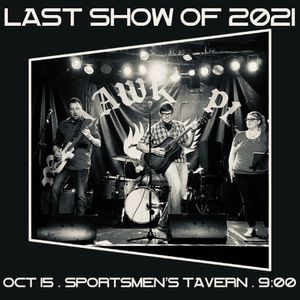 Ahhhhhhhhh, live performance. It's what I live for. It's why I do what I do. 
As much as recording makes me feel trapped ... caught in the foolhardy pursuit of gleaming. glistening, start-to-finish perfection ... playing my songs on stage makes me feel free. I guess because I've accepted that there will ALWAYS be hiccups ... things going wrong you can't plan for or control ... such is the nature of life being lived in real time. But more than likely I'll have another opportunity on another day to try and get it perfect, so for that particular night the pressure's off. I can be at peace, enjoy myself, and focus on what's really important: the sentiment of my words and music, and using them as a vessel to connect with other people. 
That said, the reason I'm reaching out is to spread the word that our final performance of the year is taking place next Friday, October 15, at Sportsmen's Tavern beginning at 9PM. 
"But why?!?" you may be asking. "Why, after the beautiful, eloquent preceding paragraph?" 
Hear me out ... I think you're gonna like it ... 
The answer is that we'll be briefly stepping aside to work on BRAND NEW SONGS which we'll be unveiling in the new year!! 
But more on that another day ... for now, don't miss your only opportunity for the next little while to hear all your current BSW faves live and in-person. To remind you what that'll sound like, check out the links below to live audio from a recent performance. 
And plan to come say hey next Friday at Sportsmen's!! RSVP yes on our event page.
Take care til then, 
Brendan 
My Little Hypocrite live with lyrics